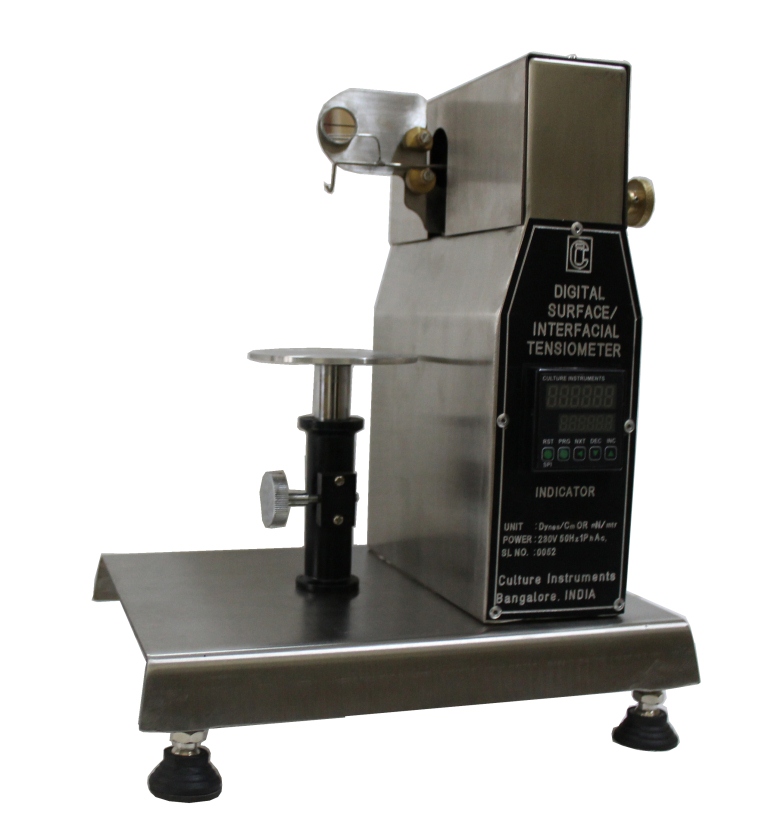 DIGITAL SURFACE/INTERFACIAL TENSIOMETER
Code: 11053-00

Description: STANDARDS:The instrument is based on the DuNuoy principle and confirms to various National and International standards like IS:6104/1972; ASTM-D-971, 1590, 1331

APPLICATIONS:Surface and Interfacial tension testing has become indispensable to a variety of industries including Paint, Chemicals, Dyes, Coatings,Inks, Plating, Soaps and Detergents, Surfactant, Emulsions, Crude,Transformer oils, Lubricants and many many more. These Tensiometer are also being used in many research & technical centers as an important instrument for scientific studies. The most widely used application being to verify transformer oil condition, by various players in the power distribution and generation fields

ADVANTAGES :

*Digital Read Out Of Tension In Dynes/Cm Or Mn/M

*Easy And Quick Change Of Torsion Wire

*Quick And Easy Calibration Even On Field

*Higher / Infinite Range Of Testing

*Can Be Carried Around In The Field

Instrument Size : 220mm x 280mm x 340mm

Instrument Size with carrying Case : 250mm x 350mm x 365mm

Weight of the Instrument : 05 kgs.

Weight with carrying case : 13Kgs. '

CI' Interfacial tensiometer is supplied complete with

*Power Cord - 1 no.

*Sample Dish - 1 no.

* Platinum Ring 6cm - 1 no.

* Manual - 1 no.

* Carrying Case - 1 no.